Fertility Clinic & Gynaecology Practice
Dr Pieta Geyser · Rustenburg · North-West
What patients say about Dr Geyser
Toe ons getroud is in April 2012 het ons besluit om 'n jaar te wag voor ons met 'n gesin begin. Die idee was dat ons tyd het om gewoond te raak aan getroude lewe. Minweetend dat dit ons op die einde van die dag byna vyf jaar en baie trane sou vat voordat ons 'n kleinding sou hê.

Dit was 'n lang en moeilike pad. Ons het besluit om na Dr Geyser en span te gaan vir hulp. Hier is ons verwelkom met warm glimlagte en hoop. Die nodige toetse en prosedures is gedoen om alle moontlike hindernisse uit te skakel.

Aan die einde van 2016 het ons saam Dr Geyser besluit dat dit tyd was vir die volgende groot stap en in Januarie 2017 het ons ons eerste "KI – Kunsmatige Inseminasie" gehad. Ongelukkig was dit onsuksesvol, maar Dr Geyser was baie ondersteunend en hoopvol dat dit wel vir ons sou werk.

Ek het baie goed gereageer op die medikasie. Februarie 2017 het ons ons tweede kans gevat en die keer het ons boontjie geklou! Dr Geyser en sy assistent het hulle tyd oor naweke vir ons opgeoffer, om seker te maak ons tydsberekening is NET REG! En die keer was dit!

Dit was nie die einde van ons pad saam Dr Geyser en sy span nie. Gedurende my swangerskap is daar so mooi na ons gekyk en het ek die vrymoedigheid gehad om te enige tyd met enige navrae na Dr Geyser te kon gaan.

Op 28 November 2017 is ons pragtige seuntjie, Jordan, gebore met 'n keiser gedoen deur Dr Geyser by La-Femme in Rustenburg. Ons pragtige wonderwerk kindjie hardloop nou die wereld vol en dit is alle te danke aan die wonderlike hulp van Dr Geyser.

Daar is nie woorde vir ons dankbaarheid nie en sou dit tyd word vir 'n boetie of sussie sal ons 100% weer by Dr Geyser en sy span inskakel om weer saam met ons die avontuur aan te pak.
Ek wil graag my ervaring deel van my infertiliteits pad wat ek saam dokter Geyser gestap het. Ek was 29 jaar oud en n tipe een diabeet toe ek vir dokter die eerste keer gaan sien het. Ek wou so graag n kaans gehaat het om n mamma te word voor my siekte dit onmoontlik sou maak om te kan swanger raak.

Oor n tydperk van 2 jaar het dokter en sy span my elke stap gehelp om my langtermyn suiker vlak goed onder beheer te kry voor ek deur middel van IUI swanger kon raak. Dokter en sy span was verskriklik ondersteunend en behulpsaam en ek was gelukkig genoeg om die eerste keer wat dokter IUI gedoen het swanger te raak.

My swangerskap het goed verloop, dokter Geyser en sy span het my baie ondersteun en enige tyd al my honderde vrae beantwoord. Dit was n baie wonderlike ervaring wat hulle moontlik gemaak het. Ek was elke stap van die proses baie gerus om te weet ek is in goeie hande.

My baba dogterjie is gesond gebore 3.5 kg en 52 cm op 12/10/2018.
I have been a patient of Dr Geyser and his team for almost ten years. There is no words that can fully capture the level of care both medically and emotionally.

I have been for a few operations, treatments, struggle to fall pregnant, two babies and a near death experience. Every step of the way Dr Geyser and the team held my hand and always went the extra mile. I always felt at safe in their hands.

Dr Geyser is the best doctor in the medical field. They are professional but also gives amazing emotional support. I would not be here today if not for Dr Geyser and team.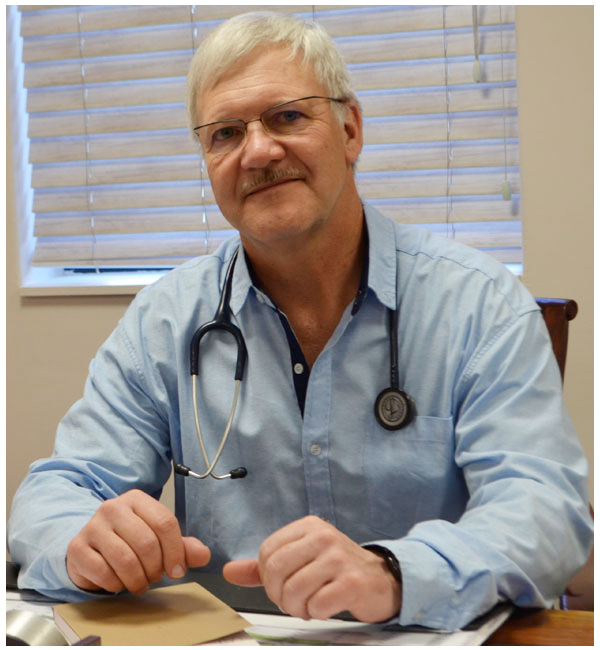 MBChB; MMED (O&G); FCOG (SA); Certified Reproductive Specialist; CCD
Dr Geyser is a qualified Gynaecologist and Obstetrician and specialises in various, modern Assisted Reproductive Technology (ART) treatments.
In 1999, he established his practice in Rustenburg and has a great deal of experience managing women's health concerns and procedures with expert, compassionate care.
To learn how Dr Geyser can assist you or to schedule an appointment, visit the gynaecology practice or fertility treatment clinic pages for more information.
Alternatively, feel free to contact the practice if you have any questions.
How to contact Dr Geyser's clinic or practice